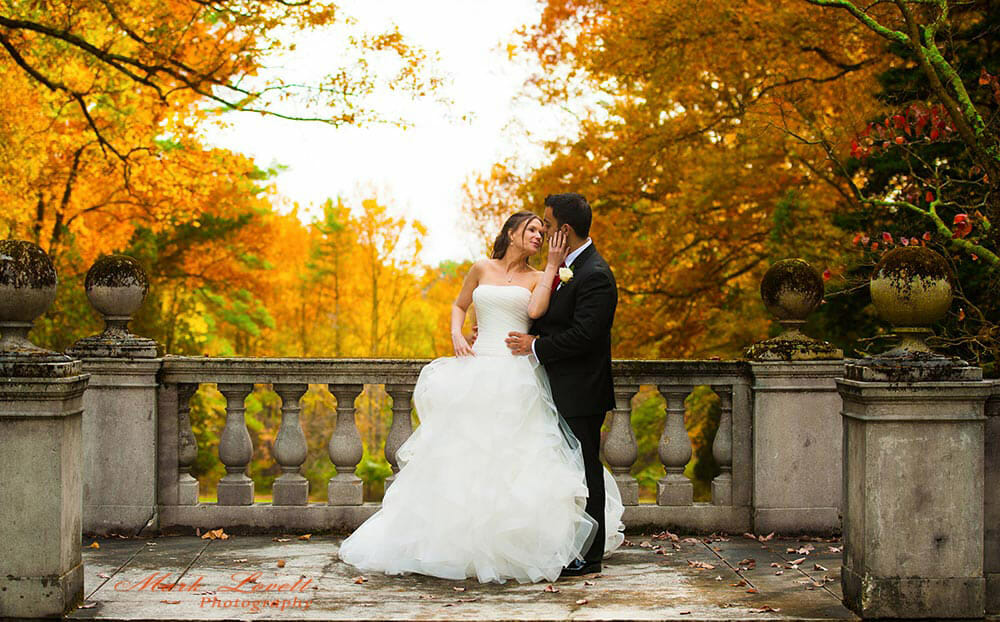 Gorgeous Autumn Wedding Images at Strong Mansion
Sugarloaf Mountain, Dickerson, MD
by Mark Lovett Photography
Nestled on Sugarloaf Mountain, and just an hour from DC, the historic Strong Mansion provides a romantic and picturesque setting for weddings. It is perfect for couples seeking to say their vows surrounded by natural beauty. Strong Mansion features three ceremony sites, formal gardens and a tented patio that can accommodate 200 guests. Completed in 1915, the historic mansion features many original furnishings, a bridal suite and seven bedrooms – ideal for getting ready photos.
The beautiful bride and handsome groom, Cristy and Omid,  were really awesome to work with. I'm not just saying this. From the heart, these guys were very warm and friendly, and we loved their family and friends. We really appreciated the opportunity to spend the day with these very special people.
I loved Cristy's gown! It was so beautiful on her and was amazing to photograph.  It had flowing lines, and Cristy did a fantastic job of tossing it around in a playful manner that looks so nice!  I must mention that I enhanced the colors in the background. All is fair in the creation of fine art!
It was an overcast day and the colors were subdued. As a professional artist, creating beautiful art is what I to do.  The wedding images turned out great! We created 100's of amazing images. After working very hard, and finishing post processing of the images, I took a little time off.  When I saw the online gallery my wife sent to the couple, I started looking at the pictures and I got inspired again!.  So I ended up spending my Saturday evening creating digital art with some of my favs from the Strong Mansion Autumn Wedding.
You ask,   'How did you saturate the colors in the background without messing up the skin tones?'  It takes a lot of time …. selecting certain areas of the images, creating multiple digital layers, adjusting color, brightness and contrast in each layer, then combining the layers in such a way that works! Then sizing the images and optimizing them, posting them, writing an article etc… Very, very time consuming…. a true labor of love.